Posts Tagged 'floral decor'
Thursday, April 7th, 2016
Shown here: Dan Campanelli's Magnolia Reflection Print, Lily Accent Lamp and Milk Bottle String Lights.
Tags: dan campanelli, floral decor, floral home accents, garland, Lily Accent Lamp, Magnolia Reflection Print, Milk Bottle String Lights, Quick Tip, spring flowers, wall art
Posted in Apartment, Art, Bedroom, Decorating, Dining Room, Lamps and Lighting, Quick Tips, Seasonal Decorating, Thematic, Wall Decor | No Comments »
Thursday, January 28th, 2016
While Valentine's Day doesn't involve a season-long decorative period, like Thanksgiving and Christmas, that doesn't mean you should forego decorating or display clashing accents using the excuse of "it's just for one day." If you already have a timeless, chic look in the rooms of your home, it will not be hard to pull off a Valentine's Day look that perfectly complements your favorite furniture and decor. Here are some of our favorite ways to decorate for this lovely holiday.
Especially for a short-lived celebration, one area of your home can be utilized as a sort of shrine to whatever holiday is coming up. Using an end table, an entryway table or other small table space as a surface on which to display seasonal collectibles is the perfect way to show your spirit. Coordinate a wall accent and floor runner, large vase or decorative basket to add a little more color for Valentine's Day; and who knows, you may like the look so much you'll want to keep those items displayed all year long!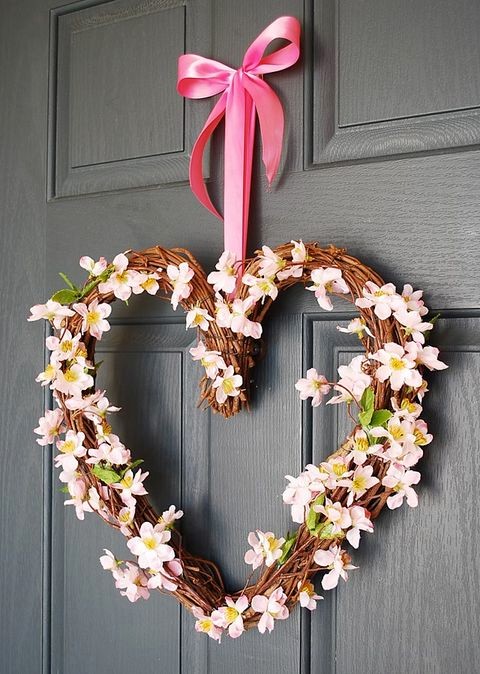 Flowers may be one of the first things that pop into your head when you're thinking about decorating for this beloved day, behind hearts of course! Choose flowers in hues of pink, red and white to coordinate with other decor and create a loving, blooming look throughout your home. Mix and match flower species and use elegantly designed vases to create that traditional loving feeling.
What's next?
Wreaths of course!
We love already made varieties, with lush greenery accented by red, pink and white faux blooms, for doors, mantels and other bare wall space in any room.
Add decorative ribbon or more of your own flowers to make any wreath more personal and beautiful for Valentine's Day. DIY wreaths are always envious, so if you go that route keep in mind that using simple, natural looking materials can take a wreath from looking like an amateur art project to a delightfully successful do-it-yourself that you can ideally use year after year. DIY heart wreaths also make great gifts, especially for Valentine's Day.
Tags: Berry Hydrangea Wreath, Connected Circles Braided Floor Runner, floral decor, flowers, heart decor, lighting, Monroe Oval Table, Nantucket Floor Lamp, Red Toile Clock, Valentine Sweetheart Sculptures, valentine's day
Posted in Apartment, Bedroom, Crafting, DIY, Decorating, Dining Room, Holiday Decorating, Lamps and Lighting, Rugs, Seasonal Decorating, Thematic, Thursday's Theme, Wall Decor | No Comments »
Thursday, July 16th, 2015
Bright colors, bold plants and exotic patterns are all things to keep in mind when going tropical in any room of your home. It can be easy to go a little overboard, however, so we have put together some tips on keeping your tropical haven relaxed and lively while maintaining classy and stylish looks.
Start with neutral colored furniture in tan, white, navy or brown. You can always add an accent chair or table, but by having a large focal point of your room neutral, it's easier to identify and piece together complementing décor. Add floral patterned pillows, solid and brightly colored pillows, or mix and match for a full and festive look. For wood floors, choose a rug that is sure to make a statement. On lighter wood, place a rug with a darker background under a vibrant pattern. Your lightly colored floors will add an eye-catching contrast to the darker fibers of the rug. For darker floors, do the opposite: brighter colors will create the lively statement you want to make.
Darkly stained accent tables contribute to the comfortable feeling in a tropical design, especially against colorful and whitewashed décor and other furniture. However, if you've already chosen a darker sofa or have dark hardwood floors, a washed out side table will create an appealing contrast. The whitewashed look has a beachy feel and can provide that appealing statement you desire. You can then add colorful figurines, books and other decoratives to fulfill the tropical atmosphere.
An accent lamp or decorative floor lamp (or even a ceiling fan with blades that look like large fern leaves) can also create an interesting tropical contrast, especially in a smaller room or one without a lot of surface area on which to place novelty décor and accents. Choose a brightly colored, patterned and/or uniquely shaped lamp base and use a white fabric or burlap shade to create a natural look.
Our last recommendation does not exhaust this list by any means, but is an important one for completing your tropical escape. Wall décor and window dressings are important because they surround your room, and your home, and may be the first parts of a room you and your guests see when they walk in. When looking for tropical wall accents, think a little bit on the side of tribal or mosaic designs; these will most likely be intricate patterns and will mimic shapes and forms of the natural world – perfect for a tropical design.
Curtains and window dressings for a tropical room should come from either end of the spectrum. More specifically, choose light, airy and lacy curtains for a more relaxed look, and heavier, fuller fabrics for more formality. In combination with the above tips, you can create a lively and stylish tropical room (or rooms) in your home that you are sure to enjoy year after year.
Tags: accent lamp, accent table, beachy decor, curtains, floor rugs, floral decor, natural decor, nautical decor, summer decorating, Thursday's Theme, tropical decor, wall decor
Posted in Bathroom, Bedroom, Curtains, Decorating, Dining Room, Furniture, Lamps and Lighting, Pillows, Rugs, Seasonal Decorating, Seating, Thematic, Thursday's Theme, Wall Decor | No Comments »