Pantone®'s Ultra Violet is 2018's Color of the Year, and whether your love it or just like it, we have some ideas for incorporating this rich color into (and outside of) your home.
◊
Three techniques are seen in the photo below.
Small accents like pillows and flowers bring this lovely color
into any room with minimal commitment on your part.
Curtains in this shade act to deepen the window sill
while maintaining a cheerful look in a room.
An accent wall in Ultra Violet is a bigger commitment,
but as you can see here it looks beautiful when finished.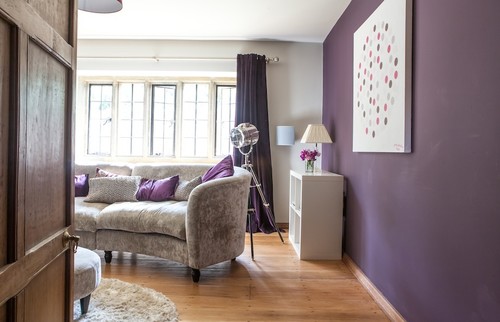 ◊
Ultra Violet upholstery adds a fun look to a living room, den or kids' room, and if you're still
on board with velvet, this just may be the perfect color for that material. You can coordinate
pieces like in the image below, or add a nice pop of color with an accent chair in this shade.
◊
Okay, this is more for our "dream home wishlist," but doesn't this stove look exceptional?!
Ultra Violet appliances get a thumbs up from us.
◊
These final two spaces are obviously not indoors, but we had to include them
because this color looks perfect out in a yard or garden. Purple, green and orange
happen to be triadic colors – meaning they are equally spaced in the color wheel – which
makes them perfect complements when used correctly.
Because green is such a dominant color in nature, this subtle use of a purple shade
creates a perfect balance – it's not too severe and it's not overpowered. Add orange
flowers or just bask in the yellow-orange of the sun and enjoy your Ultra Violet
furniture outside (UV rays are in sunlight, after all!).
Tags: decorating with color, pantone color of the year, ultra violet