It's easy to keep every room in your home organized when you utilize baskets or totes, and for a charming country feel, they are almost always the answer. The key to using baskets as a storage solution is to review their contents every month or so. This will keep you from using them as catch-alls, and could help you rid of unnecessary or unused items from your home.
Benched
We love benches that allow space for baskets and small totes. This utilizes every inch of the bench's footprint, and creates a stylish look in an entryway, mudroom or even a bedroom. Store shoes, hats and gloves, scarves and accessories, or seasonal home accents in stylish woven baskets under a bench.
On the Walls
If you are looking to incorporate a DIY project into your storage solution, look to a blank wall in a mudroom or hallway and build shelves to accommodate collectibles, books or storage baskets. Mixing and matching the function of each shelf – a basket here and there, a sculpture here and a book over there – will make the wall even more interesting to look at.
Food Storage
Baskets can be just as handy in the kitchen. With open shelving, a basket can add a textured look to flat walls and counter tops, and can hide away food items that may clash with glass storage jars or decorative dishware.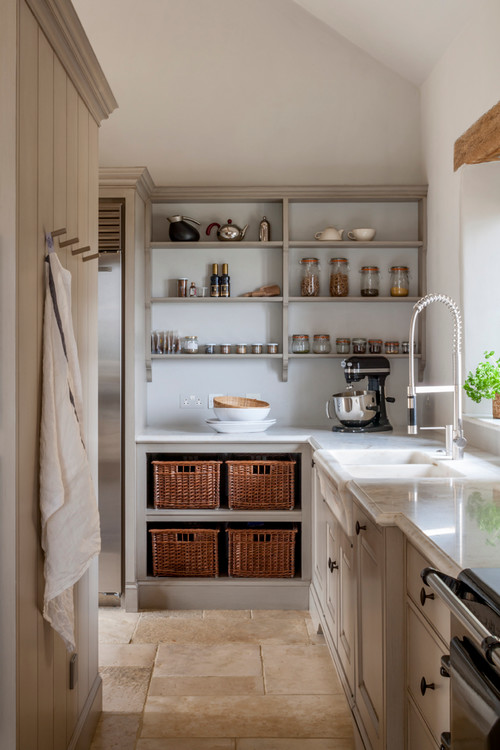 ◊
Laundry Help
Using large baskets as laundry baskets or hampers is pretty common, but smaller baskets are great for storing lost socks, linens and other laundered items in a laundry room. We recommend adding a pretty linen insert when using real wicker or woven baskets.
Under the Bed
Finally, update your under-the-bed storage with flat baskets or totes. You will be utilizing this often forgotten space while adding a warm, rustic accent to your bedroom.
◊
Tags: baskets for organizing, bedroom storage, Cubby Storage Bench, Floral Bench Cushion, Home Organization, home storage, kitchen storage, storage basket, storage bench, storage solutions, Wicker & Wood Totes