◊
Your door is decorated, the mantel is decked out for the season, and even your table is looking festive for Halloween. Now it's time to ready the candy, for trick-or-treaters and of course, yourself.
Trick or Treat . . .
Have fun with your candy display by putting chocolates, lollipops or candy corn in a decorative apothecary jar or glass vase. For unwrapped candy, a container with a cover is best, but for individually wrapped pieces, an open bowl or dish will do just fine.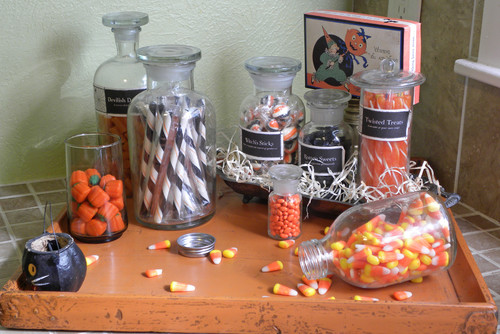 Trick or Treat . . .
Single containers can be placed throughout your home for festive (and indulgent) flair, or a candy station can be prepared with all of your favorite treats. Use a serving tray or utility board to corral canisters and jars, and craft labels for each type of candy that can be removed after Halloween has passed.
Give me something good to eat!
When trick-or-treaters arrive at your door, a big bowl or pumpkin basket is a tried and true way of distributing sweet treats to the ghouls, superheroes, goblins and princesses who stop by. Make this candy more exciting by putting it in cute gift boxes, or tie bat cutouts on pixie sticks and lollipops for a spooky look.
What kind of candy do you put out at Halloween? Share your favorites, and your candy displays with us!
Tags: candy dish, Ghost Gourd Candy Dish, Halloween candy, halloween decorating