We love a good first impression, and one of the best ways to ensure you make one on your guests or passerby this fall is by decorating your front door, porch or stoop. Whether you are an elaborate decorator or a minimalist, we hope you will be inspired by some of our favorite autumn looks.
One-Sided
This Spanish-inspired home already emanates the warmth found in autumn decor, so the simple one-sided styling adds seasonal flair without overdoing it. The flower basket filled with blooms and leaves on the door draws attention to the  fall charm of the pumpkins and plotted flowers as well as to the rest of the stoop.
Traditional Farmhouse
Even if you don't reside here in a traditional farmhouse, you can still get the look by filling the space from the end of your walkway all the way to your door with greenery and seasonal blooms. Corn stalks and a natural wreath make your doorway blend in with its surroundings, and you can forget about picking up leaves – keep them around your mums and bushes to create a comfortably casual outdoor display.
Complementing Frame
This look is simple to throw together if you have a few pumpkins and potted flower arrangements. A complementary look – as opposed to a matching display – creates more visual interest and can be achieved by using oranges, reds and even white. Don't forget the wreath!
Out of the Ordinary
Pumpkins and corn cobs provide the color at this front door, while branches, twigs, feathers and leaves offer whimsy and one of the most creative looks we have seen. The asymmetric framing draws us in to admire every part of this arrangement, and the subtle colors (apart from the pumpkins) make a display that is noticeable but not gaudy.
Green with Envy
While rich, warm colors take center stage during the autumn season, that doesn't mean greens and pinks and blues can't make an appealing statement. These corn stalks are still in their lush green state, which gives a fresh look to the rest of the porch. The pink in the wreath complements the orange pumpkin and golden yellow mums, which work well with the greenery surrounding them. Neutral toned bows and flower pots work well to bring the whole look together and make it easy on the eyes.
Fall Flourish
This exaggerated display is warm and welcoming because of its use of pumpkins throughout each arrangement, and the use of lights, a wreath and garland, whimsical characters, as well as wall art and accents. The hay bails add a natural touch, and it all looks neatly placed to welcome the harvest season and fall guests.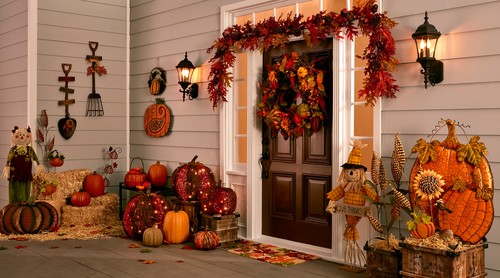 Tags: fall decor, fall decorating, front door, outdoor decorating, porch decor, Seasonal Decorating