Summer officially starts on Sunday and soon after we'll be celebrating the 4th of July! Start planning your patriotic decor and Americana themes for your entryway, outdoor spaces and of course, your table settings. Here is a little tablescape inspiration for celebrating Independence Day in true red, white and blue fashion.
◊
Decorating for this summer holiday is simple, really. Red placemats can be found almost anywhere, and you can pick up colorful or patterned ribbon at your local craft store to tie napkins, accent glass vases or create festive place cards.
The American flags bring the look of this dining room together, and you can add them to a floral centerpiece arrangement or place them in holders around the table.
◊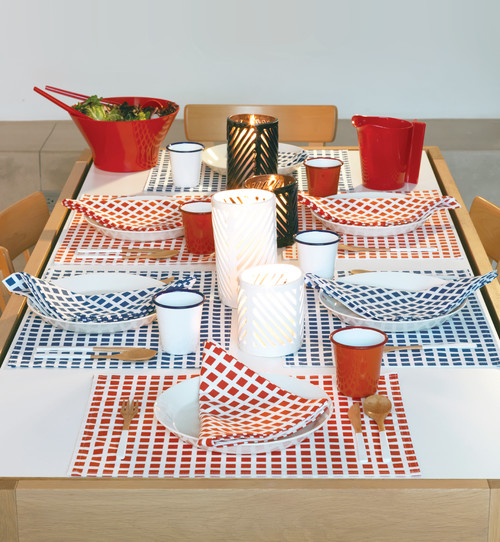 We love the retro-chic vibe of these patterned placemats, napkins and color coordinated serveware.
If you're thinking it may be a little too bold, remember that food and the room itself will tone down the starkness of any pattern; the white plates and neutral surroundings even out the look.
The pillar candles and holders are great as accents – they are not too over the top but add aesthetic appeal for just the right amount of Americana spirit.
◊
Of course, if you decorate in the Americana style all year long, you will have no problem creating a perfectly patriotic dining space. USA wall art, classic country chairs and traditional patriotic colors never go out of style.
This is a great example of using red, white and blue in subtle ways: the country windsor chairs are a comfortable blue, while the beautifully finished white table makes the red flowers pop, especially in the sunlight.
To expand the look, patriotic-themed chair pads and a charming table runner are must-haves, although we think this dining room is spectacular just the way it is.
◊  ◊  ◊
Most importantly when creating a beautiful tablescape: don't skimp on the details! Extra flair with ribbon, flower petals, paper stars and the like really turn any event into a welcoming celebration.
◊
How do you decorate your dining spaces for the Fourth of July, or with an Americana theme?
We're celebrating this season in more ways than one: check out our entertaining ideas and related articles, patriotic decor and our made in the USA sale to make this holiday and the rest of the year extra festive.
Tags: Americana Blue Star Taper, americana decor, americana decorating, Fourth of July, fourth of july decor, made in the usa sale, Starry Night Curtain Collection, summer entertaining, summer home accents, table settings