Sometimes you find just the right look for decorating your home in photos on Pinterest or other online sources, but are not sure where exactly to find the pieces that helped create that look. Today's post is about three spring centerpieces we adore, and telling you how to create them using items in your home or in our catalog.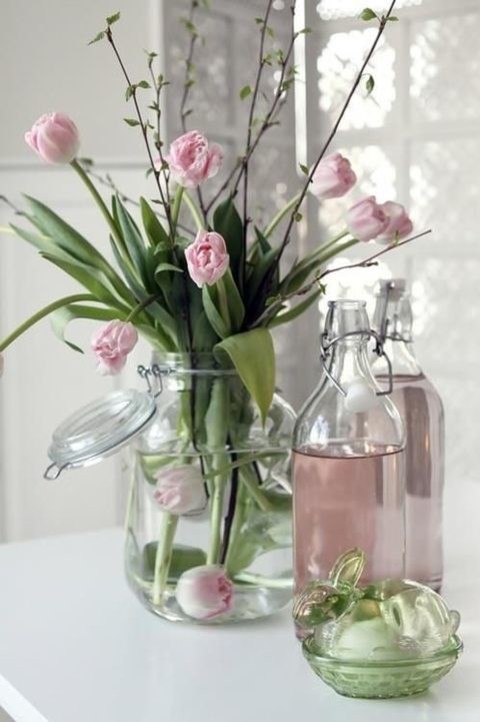 This first arrangement adds a simple elegance to any table, mantel or counter, and only takes a few steps. All you need is a Mason jar or large canning jar and some of your favorite blooms. Whether picked fresh from a garden or from our faux sprays and bunches selection, you will have an appealing country home accent for your table in no time. Fill the jar with water for real flowers, and use colored rocks, glass beads or straw for the everlasting variety. Our Quart Mason Jar and Flowers are perfect combinations.
If you want a little more variety in your centerpiece flowers but still want to maintain a cohesive look, a tin or metal container with multiple compartments is what you're looking for. Use full blooming flowers in one, long grasses in another and a petite bunch in the third. The brighter the flowers the better, especially in a gray or silver antiqued container.
And if you're ever in any doubt about styling a
centerpiece,
add more
home accents!
For spring, rabbits, baby chickens, lambs and eggs in pastels or naturally bright colors are what you want to look for. Go classic with materials (glass, ceramic, paper) and you'll be surprised at how big of a statement your spring centerpiece will make.
For more tips and ideas on styling centerpieces and decor for spring, visit our website.
Tags: centerpiece, flower arrangments, Glass Storage Caddy, Quart Mason Jar, spring centerpieces, spring flowers, Three Fuzzy Chicks