The first way, of course, is to style it as a mini bar. We love a bar cart in the dining room, especially in a formal dining space reserved for special occasions, to not only add a little more whimsy but to also make the space more functional. This wicker bar cart fits in with the traditional feel of the room, and features a couple of decorative accents that bring the room's primary colors to the cart, truly making it part of the space. If you have a large inventory, opt for more a more decorative cart to make up for the lack of little accents (the wheels and handle of this bar cart would work well alone as well as they work with the decorative vase and pitcher).
Create a spa-like feel in your bathroom by using a simple metal bar cart to hold your soaps, lotions and creams, as well as towels and toilet tissue. You get extra storage space while your bathroom gets a stylish update – preferably with wheels to move from beside the sink to beside the tub.
In a bedroom or family room, a bar cart can provide storage, mobile table space and even serving capabilities when you have guests. Use as an end table to place an accent lamp or behind the sofa to hold a telephone or extra blankets and pillows. Then move it to a new place when you feel like redecorating – adjustable shelves make its individual style stand out and offer more storage options.
For crafts or as a desk when you don't have office space, a bar cart is great for holding writing utensils, that DIY project you've been finishing for weeks, mail and other odds and ends around the house. The open design coordinates well with any room in which a desk would just look out of place, and flat topped carts are ideal for writing or jotting down your grocery list in a hurry.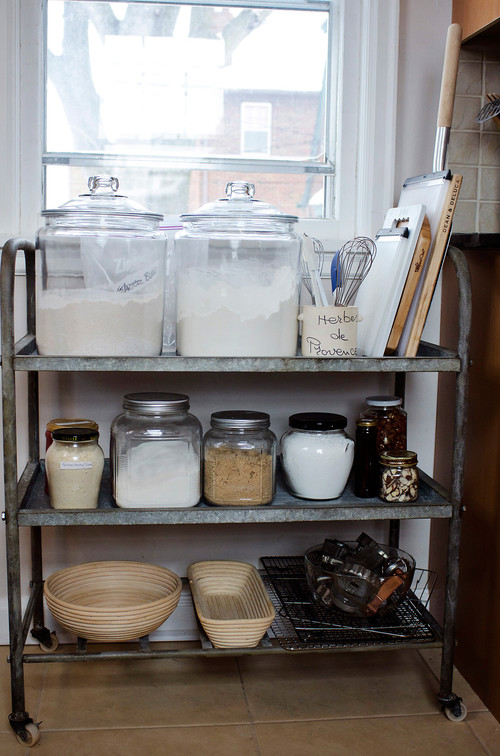 ;lkajdf;lajfsd
Finally, and perhaps our favorite use for a bar cart (besides the first), is the use in the kitchen or in a pantry. Store flour, sugar, mixing bowls and spoons, cookie trays and other frequently used cooking and baking supplies on a mobile bar cart so you can easily wheel everything you need to your stove, counter or prep station, and then easily wheel it back out of the way when you're done. A bar cart is also great to have if you don't have a lot of cabinets for storage but have enough space to fit a multi-level cart to better organize your kitchen supplies and tools.
Have you styled a bar cart differently than the ways we have described? Share your ideas with us and let us know if you try ours in your own home. Happy styling!
Tags: Bar Cart, Barnboard & Iron Cart, bathroom storage, Home Organization, kitchen storage, office organization