While Valentine's Day doesn't involve a season-long decorative period, like Thanksgiving and Christmas, that doesn't mean you should forego decorating or display clashing accents using the excuse of "it's just for one day." If you already have a timeless, chic look in the rooms of your home, it will not be hard to pull off a Valentine's Day look that perfectly complements your favorite furniture and decor. Here are some of our favorite ways to decorate for this lovely holiday.
Especially for a short-lived celebration, one area of your home can be utilized as a sort of shrine to whatever holiday is coming up. Using an end table, an entryway table or other small table space as a surface on which to display seasonal collectibles is the perfect way to show your spirit. Coordinate a wall accent and floor runner, large vase or decorative basket to add a little more color for Valentine's Day; and who knows, you may like the look so much you'll want to keep those items displayed all year long!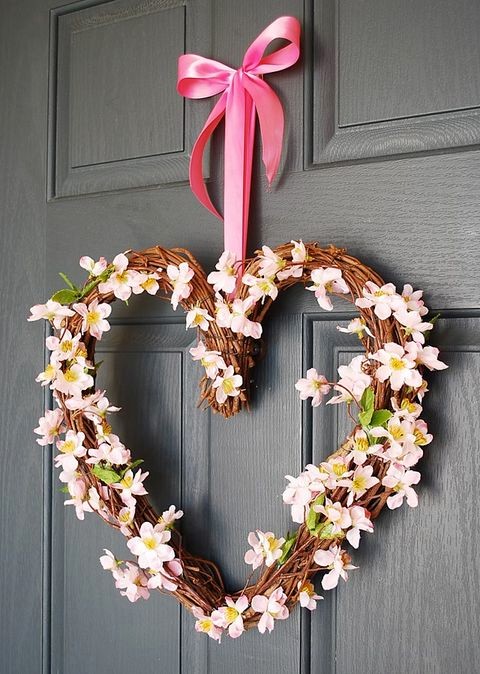 Flowers may be one of the first things that pop into your head when you're thinking about decorating for this beloved day, behind hearts of course! Choose flowers in hues of pink, red and white to coordinate with other decor and create a loving, blooming look throughout your home. Mix and match flower species and use elegantly designed vases to create that traditional loving feeling.
What's next?
Wreaths of course!
We love already made varieties, with lush greenery accented by red, pink and white faux blooms, for doors, mantels and other bare wall space in any room.
Add decorative ribbon or more of your own flowers to make any wreath more personal and beautiful for Valentine's Day. DIY wreaths are always envious, so if you go that route keep in mind that using simple, natural looking materials can take a wreath from looking like an amateur art project to a delightfully successful do-it-yourself that you can ideally use year after year. DIY heart wreaths also make great gifts, especially for Valentine's Day.
Tags: Berry Hydrangea Wreath, Connected Circles Braided Floor Runner, floral decor, flowers, heart decor, lighting, Monroe Oval Table, Nantucket Floor Lamp, Red Toile Clock, Valentine Sweetheart Sculptures, valentine's day