Garland, wreaths, floral bouquets, oh my! Decorating with lush greenery and flowering arrangements is the most simple, and one of the most beautiful ways to show seasonal spirit for Christmas and other holidays throughout the year. Here is some inspiration for creating a cheerful wonderland with these beautiful accents.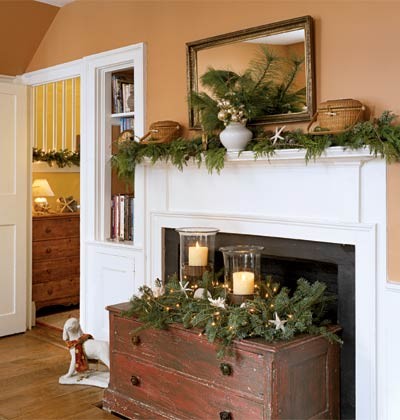 The Basics
Our favorite décor always has a touch of personal taste, and this is especially wonderful to do for the holidays. Start with a simple, bare garland – a lighted one adds a little more appeal – and proceed to decorate it with ribbon, bells and other ornamental pieces to create a piece that is truly your own. With different styles you have the option of making a full, bold statement or a more reserved yet charming look.
Coordination
It's easy to get carried away with Christmas décor – we just like so much! However, if you stick with complementing greenery, alternative accents and baubles will look more accompanying than if they are by themselves. You can see here that the garland and branches on the mantel and chest are similar, creating a cohesive look between the glass and bronze candle jars and the white vase, as well as the wicker baskets and starfish.
Throw it Together
Sometimes beautiful centerpieces and unique table toppers can just be a combination of two items that are just thrown together. Take greenery like a candle wreath and place a decorative pillar candle inside, or place extra ornaments in a large dish with branches or holiday flowers for instant style in a foyer, dining room or other living space within your home.
Don't Forget About the Outdoors!
Whether your preference is a simple wreath on the front door or a lavish display of statues, garlands and lights, the outdoors should not be neglected when it comes to decorating for the holidays. Use cheerful colors, DIY projects and lawn ornaments to create a warm welcome for guests before they even step inside.
Tell us how you're decorating with greenery this year, and let us know where you found inspiration to create beautiful arrangements. Did you see something you liked in our catalog? On Pinterest? Share your holiday decorating triumphs!
Tags: christmas decorating, garland, holiday decorating, Lighted Feather garland, outdoor decorating, wreath