Happy autumn! We are excited for it to be here, because this is the season that seems to draw the most creativity and color when it comes to décor. Versatile fall decorations are key, because many autumn themes pertain to the outdoors and multiple holidays. Vegetables, leaves, country accents and inviting scents are just a few wonderful things to incorporate into your home this fall.
Front Porch
Your front porch, front steps or quaint patio space are excellent canvases for decorating during any season, but especially for fall. With the holidays near, chances are you will be celebrating with family, friends and frequent guests, so an inviting and warmly decorated entry is an excellent way to make them feel welcome.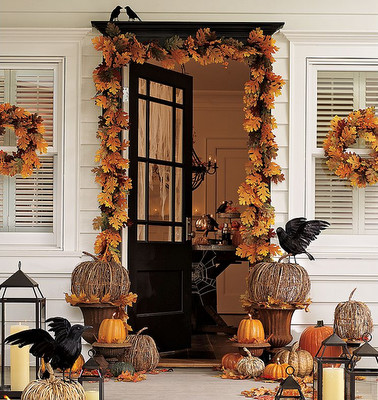 During the fall season, Halloween and Thanksgiving decorations can be incorporated and switched out – another reason autumn decorating is so wonderful – to match your personal preferences and home's exterior. The example to the right (Traditional Spaces) portrays this extremely well. The pumpkins, wreaths and garland are all fall staples; they will complement the season right up to its end. The crows, cobwebs and spooky candle lanterns are a little more specific to an elegant Halloween look, and can be traded out for turkey and pilgrim-inspired accents as well as more pumpkins and gourds when Thanksgiving closes in.
Throughout Your Home
Subtlety is usually the best policy when decorating for a particular season or holiday, especially if your design preferences and stylistic decor in each room are specific to certain color palettes or themes. Designate a few smaller spaces in your home as areas where you can be seasonally creative, like a mantel, a hallway table or reading nook. Use smaller accents to portray holiday spirit, and seasonally colored garlands or decor to dress up existing decor or the designated space. This will support your desire for creating a lush, welcoming seasonal display while maintaining your love for the way your home is already decorated.
Tags: Autumn Berry Candle Ring, autumn decor, Black Hat Society Sign Blocks, candle ring, country decor, fall decor, halloween decor, harvest decor, Owlet Gourd, sign blocks