Spring is just a day away, and we are more than ready to say goodbye to the cold weather and hello to warming up! This is the time of year when we try to find time to purge our houses of clutter and update decor, so if you find your home feeling a little empty after spring cleaning sessions, here are some great ways to redecorate and refresh your living spaces.
Flowers
This one is a no-brainer. The arrival of spring brings new life and fresh colors to your backyard, garden, and neighborhood; so get out there and pick a few blooms to display in a glass or equally colorful vase in your home. Easter and Mother's Day will also be here before you know it, and flowers are the simplest decor and gift items for your Sunday brunch or as a gift to your mom. And, if you want your flowers to last a little longer, faux arrangements can be just as pretty, and will last as long as you would like them to.
Curtains and Window Dressings
Now that our days contain more beautiful sunshine, you will want to change out those heavy, possibly insulated, curtains and window dressings used during the winter months. Sheer lace curtains are great for an elegant window decoration, and will allow a lot of warm sunshine into your home. If you prefer solid colors, go lighter rather than darker, and try a floral print! Light blues, yellows, greens, and pinks are nice colors that will liven up any space, and any home decor. Try just a valance or swag for a minimalist effect that will create a lighter, airier feeling in a kitchen or bedroom.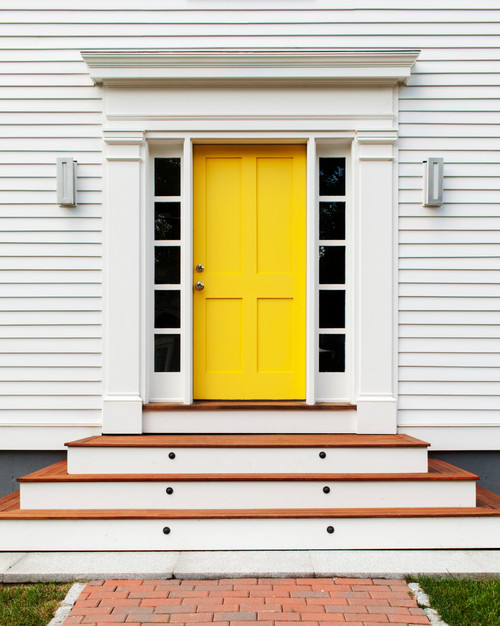 Front Door

If your front yard landscaping isn't completely spring infused, go to your front door, roll up your sleeves and get painting! A vibrantly colored front door is a quick way to freshen up the outside of your home, and is unique enough to grab the [positive] attention of your neighbors and guests. It does require a little bit of commitment, however, so if you're not quite ready to transform your house's facade, a brightly colored, natural, or spring inspired doormat will add the seasonal freshness your home needs. Make sure to pick up an all-weather or durable doormat, so no matter how many feet – dry, wet, muddy – pass through it will look as good as new for the entirety of the season.
Do you have any tips for spring decorating you'd like to share? Leave a comment below and tell us your ideas, and have a happy spring!
Tags: curtains, doormat, Easter, first day of spring, flowers, fresh decor, front door, home decor, Mother's Day, spring colors, spring decor, Think Spring, Thursday's Theme