Posts Tagged 'home decor'
Thursday, May 7th, 2015
Tags: flowers, fun decor, home accents, home decor, Pillows, Quick Tip, rug, stafford chair, statement furniture, upholstery
Posted in Americana, Apartment, Bedroom, Curtains, Decorating, Dining Room, Furniture, Pillows, Quick Tips, Rugs, Seating, Thematic | No Comments »
Thursday, April 16th, 2015
Following up with our Reno Tips article from last week, today we will be addressing some things to keep in mind while planning and carrying out your renovation, as well as decor tips to keep in mind for after the renovation. Just like our compilation of tips last week, we have rounded up some decor guides that we think will be helpful when shopping for decor and planning the arrangements within the rooms of your home. Happy decorating!
The "Standards"

This Old House have identified 64 numbers that are important to home design, and have made them available to nearly everyone. These numbers range from the height of a bathrobe hook in the bathroom to the average desk depth in a home office, and everywhere in between. TOH does note that while these numbers "are based on national building and design industry guidelines…You can – and should – adapt them to your own size, circumstances, and preferences." So if you're feeling confused about where you should place your television in the living room, or how much space should be between the floor and a towel rack, this guide is a great resource. But if you're torn between abiding by the "standards" and buying that multi-tiered towel rack that would be perfect for your bathroom, go with the towel rack you love over the "correct" measurements.
Painting
Paint color is a fun part of a renovation – that is if you can make up your mind about what colors to choose. If you aren't interested in hiring professional painters and would rather tackle the job yourself, there are some important things to consider before you pick up the first paint can and choose the first color you see.

Did you know the ceilings in your bathroom should be painted with a gloss rather than with flat paint like the other rooms in your home?
Or that there are certain circumstances when primer is needed, and other times when it is not?
Do you know what kind of brush to use?
You should be asking these and other questions so you can get each paint job looking pristine and professional. This blog showcases many of these paint questions asked by a homeowner, and answered by paint professionals, so be sure to check it out (and ask paint professionals at a paint or hardware store near you) before you pick up that paintbrush.
Redecorating
So the demolition, restructuring, rewiring, rebuilding, and painting is done – now it's time for redecorating (or maybe you're just tired of the décor you've had in your home since you moved in). There are a couple of cheat sheets that can help you reorganize, redesign, and really maximize the space that you have to make the rooms in your home comfortable, spacious, and easy on the eyes.
This first is a guide for measuring curtains. It helpfully describes how to measure what you need and why certain configurations look best for specific windows. The second deals with area rugs, and how to place them with your furniture in a living room, bedroom, and dining room. Although it may seem unnecessary, measuring the space you have in a room will help a lot when choosing a rug. Finally, this last guide includes tips on how to hang art, room dimensions and styling, lampshade tips, hardwood colors, door types, and so much more. Browse this compilation for general help with paint color and curtain measurements, as well as for information on things like furniture styles and front door designs. With this and the other guides, you're sure to have a successful remodel and/or redesign that you will love for years to come.
As always, we love to hear any tips you have, or guides you've come across in your redesigning, redecorating, or renovating experiences. Leave a comment with your suggestions – we can't wait to hear from you!
Tags: curtains, decor guides, home decor, paint, redecorating, redesign, Renovating, Rugs, Thursday's Theme
Posted in Decorating, Home Care, Renovating, Thursday's Theme | No Comments »
Thursday, March 19th, 2015
Spring is just a day away, and we are more than ready to say goodbye to the cold weather and hello to warming up! This is the time of year when we try to find time to purge our houses of clutter and update decor, so if you find your home feeling a little empty after spring cleaning sessions, here are some great ways to redecorate and refresh your living spaces.
Flowers
This one is a no-brainer. The arrival of spring brings new life and fresh colors to your backyard, garden, and neighborhood; so get out there and pick a few blooms to display in a glass or equally colorful vase in your home. Easter and Mother's Day will also be here before you know it, and flowers are the simplest decor and gift items for your Sunday brunch or as a gift to your mom. And, if you want your flowers to last a little longer, faux arrangements can be just as pretty, and will last as long as you would like them to.
Curtains and Window Dressings
Now that our days contain more beautiful sunshine, you will want to change out those heavy, possibly insulated, curtains and window dressings used during the winter months. Sheer lace curtains are great for an elegant window decoration, and will allow a lot of warm sunshine into your home. If you prefer solid colors, go lighter rather than darker, and try a floral print! Light blues, yellows, greens, and pinks are nice colors that will liven up any space, and any home decor. Try just a valance or swag for a minimalist effect that will create a lighter, airier feeling in a kitchen or bedroom.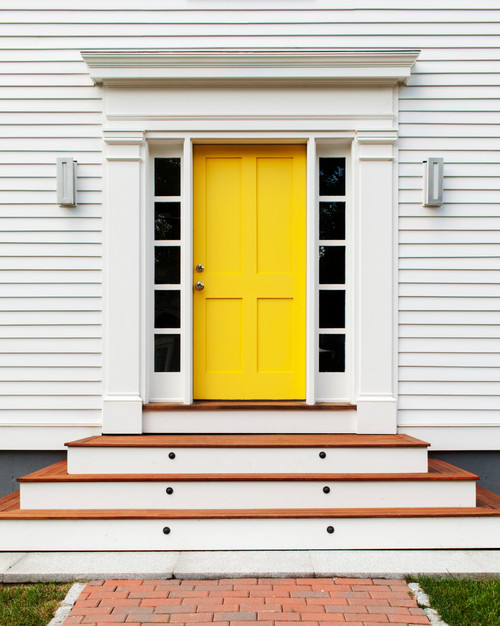 Front Door

If your front yard landscaping isn't completely spring infused, go to your front door, roll up your sleeves and get painting! A vibrantly colored front door is a quick way to freshen up the outside of your home, and is unique enough to grab the [positive] attention of your neighbors and guests. It does require a little bit of commitment, however, so if you're not quite ready to transform your house's facade, a brightly colored, natural, or spring inspired doormat will add the seasonal freshness your home needs. Make sure to pick up an all-weather or durable doormat, so no matter how many feet – dry, wet, muddy – pass through it will look as good as new for the entirety of the season.
Do you have any tips for spring decorating you'd like to share? Leave a comment below and tell us your ideas, and have a happy spring!
Tags: curtains, doormat, Easter, first day of spring, flowers, fresh decor, front door, home decor, Mother's Day, spring colors, spring decor, Think Spring, Thursday's Theme
Posted in Americana, Apartment, Bathroom, Bedroom, Decorating, Easter, Easter, Gardening, Gift, Gift Ideas, Kitchen, Outdoor, Seasonal Decorating, Thematic, Thursday's Theme, Window and Curtain Help | No Comments »