Archive for the 'Harvest' Category
Thursday, November 24th, 2016
Tags: Eat Together Lazy Susan, Happy Thanksgiving, Wild Turkey Home Accents, Wild Turkey Placemat, Wild Turkey Runner
Posted in Decorating, Dining Room, Harvest, Holiday Decorating, Seasonal Decorating, Thanksgiving, Thematic | No Comments »
Thursday, November 17th, 2016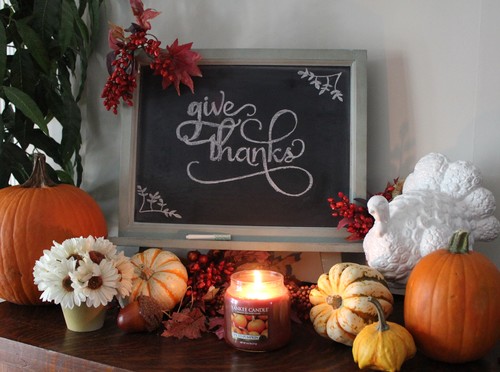 Thanksgiving is just a few days away, and if you feel like your decorations are missing that little something that would make them perfect, here are some last-minute decorating ideas you can throw together in no time.
Place cards only require a pen, paper, scissors and maybe some twine or ribbon, but can take your dining room table from blah to beautiful. Write "thankful," "grateful," or the names of your guests and place them around cloth napkins or on each place setting.
Speaking of ribbon, this craft accessory does wonders when you have limited time. Buy a bulk amount with a printed turkey or leaf pattern, or in fall colors, and tie around glassware, chairs, collectibles and even lighting.
A strategically placed chalkboard with a message of thanks or invitation will enhance the warmth of your home; place behind a scented candle or among flower arrangements and use cursive or block lettering to make the Thanksgiving message stand out.
Glass vases and apothecary jars always bring elegance to a table or surface in your home, and for Thanksgiving the best things to fill them with are acorns, leaves and even mini pumpkins and gourds. Use faux varieties or go into your backyard for the real thing.
Table runners always enhance the decorative appeal of your entertainment spaces, and many can also be used as chair sashes, adding complementary elegance to your dining room or kitchen chairs.



Tags: Floral Lace Table Runner/Chair Sash, Thanksgiving centerpiece, thanksgiving decorating, Thanksgiving decorations, thanksgiving place setting
Posted in Crafting, DIY, Decorating, Dining Room, Harvest, Holiday Decorating, Seasonal Decorating, Thematic, Thursday's Theme | No Comments »
Wednesday, October 26th, 2016
Halloween is just around the corner, and soon after we will be packing away our witches, ghosts and jack-o-lanterns to make room for turkeys, cornucopias and more harvest decor. But, All Hallows Eve will be here again before you know it, so take a look at some of our Halloween clearance items to add to your display next year. This is a special edition of Weekly Spotlight, because we couldn't choose just five home accents. So here are ten pillows and lighting options, all with special savings.
Halloween Black Lab, Juggling Black Cat, Jack-O-Lantern Cat and Halloween Yellow Lab are crafted out of hand hooked wool, offering whimsy and timeless style to your home. Our Trick-or-Treat Victorian Halloween Pillow is made to look like burlap, but the soft cotton is perfect for comfort and is easy to wash.
Halloween accent lighting is warm, inviting and sometimes spooky. Both our Jack-O-Lantern and Ghost Night Lights feature charismatic faces and a wax exterior for the look of a real candle. The handcrafted Grapevine Pumpkin can be displayed indoors and out and creates a natural look, as does our Black and Orange Lighted Tree. Mr. Moon will accent a mantel, table or bookshelf, and is accompanied by a black cat for extra charm.
◊
The availability of these items cannot be guaranteed for long, so take advantage of their clearance prices before Halloween is over. Happy decorating!
◊
Tags: 3' Black Fir Tree With Orange Mini Lights, 8" Grapevine Pumpkin Light, Ghost Night Light, Halloween Black Lab Hooked Wool Pillow, Halloween Yellow Lab Hooked Wool Pillow, Jack-O-Lantern Cat Hooked Wool Pillow, Jack-O-Lantern Night Light, Johanna Parker, Juggling Black Cat Hooked Wool Pillow, mary lake thompson, Mr Moon Fading Light, Trick or Treat Victorian Halloween Pillow
Posted in Apartment, Art, Bathroom, Bedroom, Candles, Decorating, Dining Room, Harvest, Lamps and Lighting, Outdoor, Pillows, Seasonal Decorating, Thematic, Weekly Spotlight | No Comments »